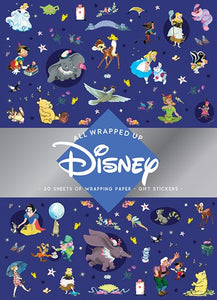 Wrapped Up is a series of gorgeous stationery books celebrating the work of Australia's best and brightest artists. A
All Wrapped Up: Disney showcases the iconic artwork of Walt Disney Animation Studios. Featuring nostalgic artwork from the beloved worlds of Winnie-the-Pooh, Pinocchio, Alice in Wonderland, Bambi, Peter Pan, Cinderella, Snow White and Dumbo.
Love the pattern? Rip it out and wrap something up! 
Each book includes 20 gift wrapping sheets and gift stickers.